Tottenham Vs Stoke Match Report from White Hart Lane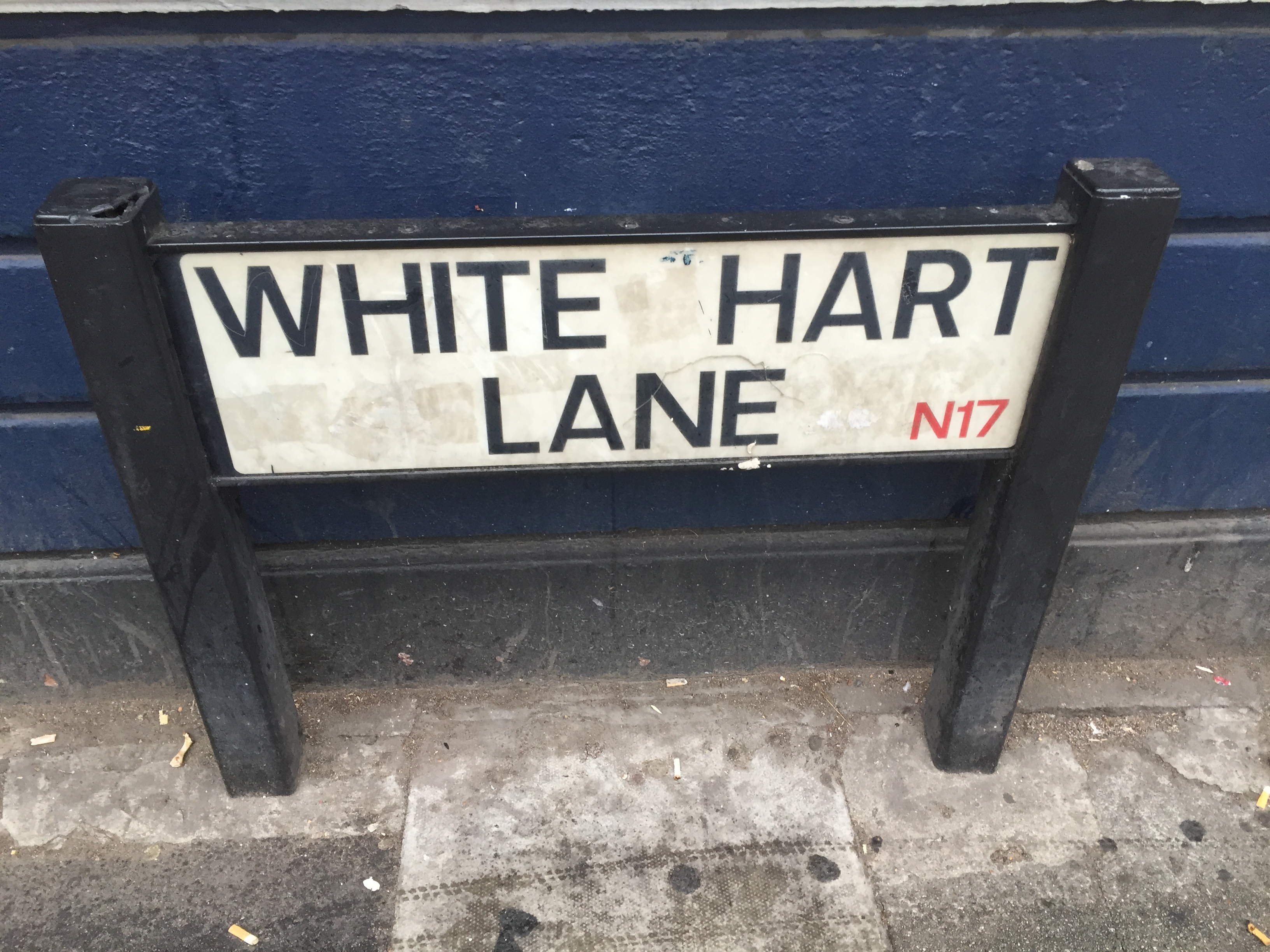 The journey to White Hart Lane is unmistakable. Its like a pilgrimage to a holy place. The long journey is undertaken by the dedicated few as they make their way from different parts of the country (and in this day and age, different parts of the world) to a magnificent old stadium in North London. I've had the fortune to travel to our historic stadium several times over the years, but never on the opening day of the season. I took the underground to King's Cross station and then onto Seven sisters. Usually I take the long walk down the Tottenham High road from Seven Sisters station with the hordes of fellow Spurs supporters, but since I was running late, had to take British Rail to White Hart Lane station. Crammed into the carriages with fellow Tottenham fans and a few Stoke supporters, we spilled out on to White Hart Lane and headed to the stadium.
For those expecting a nice, posh London suburb, you will be sadly disappointed. Tottenham is a very run down area of London with many different ethnicities and communities, but on match days (especially the first home game of the season) there is a carnival atmosphere and a sense of hope that can be seen in the eyes of all the people you meet. I picked up my tickets and made it to the Spurs Shop, where I made sure my bank account took a heavy beating! You can't help but buy more than you expect to when you go to the Spurs shop. Its like a kid in a candy store, where every item suddenly becomes necessary to have! There were huge queues, but somehow I still made it out in less than half an hour.
Getting back on the high road, I met my Spurs supporting friend from Secondary school, with whom I saw a match with in 2009. At that time we had beaten a newly monied Manchester City 2-1 in the last game of the season. I remember us all singing "salty" songs to Liam Gallagher (of Oasis fame) who was in the stands on the day! We then joined the hordes of our Spurs brethren in trying to find our seats. There were fans young and old, of all colours and creeds, all social backgrounds united by a common purpose – to see us clinch our first win of the season. I saw some old kits being worn, including the Pony Hewlett Packard shirt, which was the first kit that I bought in 1995.
Entering past the creaky turnstiles, you can't help but acknowledge the historic feel of the stadium as we made it to our seats in the North stand Upper (Paxton road). I noticed that the average age of the supporters around me was nearing retirement age. The lady next to me must have been in her 70s, with cane in hand and hearing aides in place, however her passion was unmistakable. Compared to last weekend at Old Trafford, where the singing basically rocked the stadium, those around me in the North stand upper barely sang.
The North stand is where a lot of the season ticket holders sit, and you can just imagine the decades of heroes that many of the supporters there would have seen. From the jinking runs of Villa, to the clinical finishing of Greaves, the pinpoint accuracy of Hoddle to the last minute heroics of Bale, this stadium has seen it all. No matter how many times I've been here, you get that same special feeling that anything is possible between these four walls when the team comes out onto the pristine pitch.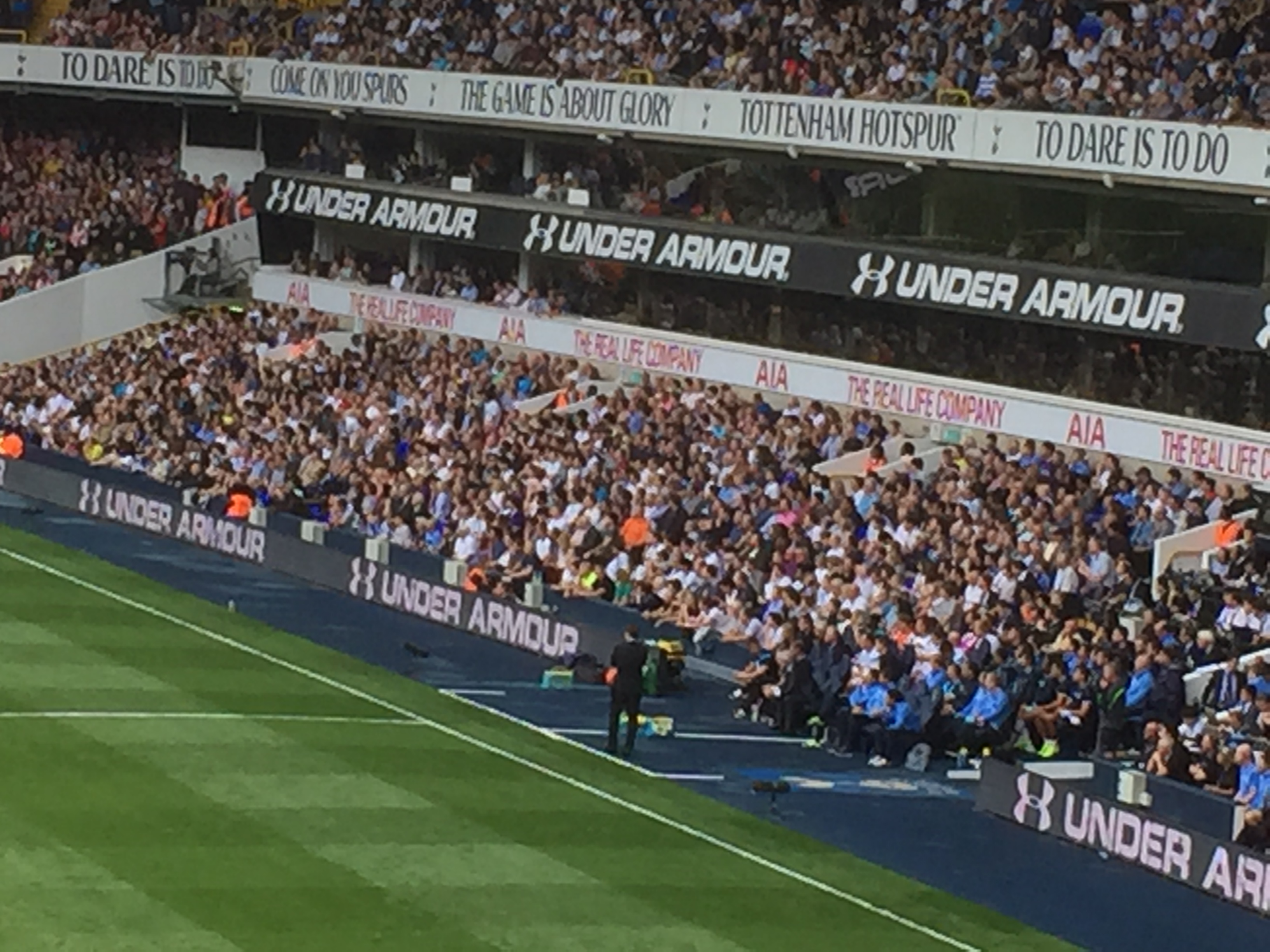 After the prematch pleasantries were finished and the mascots paraded and the handshakes completed, battle commenced. Like last week, we were first out of the traps, with Mason and Dembele really catching the eye with their performances. Eriksen was having more of an influence than last week with some cheeky shots, and Dier's improvement was evident as he continues to grow into his central defensive role. It was just a matter of time before we scored. Eric Dier rose from a Christian Eriksen corner and buried it in the net. Shortly after there was a dismissed goal from Kane (it would have been good to see Kane get off the mark), a great shot by Mason and a chance for Chadli that was let down by a heavy first touch. It was mainly one way traffic, but we did have a few scares, one from Arnautovic, a header from Diouf straight at Lloris and a gaff by Hugo where his distribution gave it straight to an opposing player (the only part of our Captain's game that he could improve on).
In injury time of the first half, a cracking volley by Chadli from a Ben Davies corner ensured that we went happily into half time 2-0 up.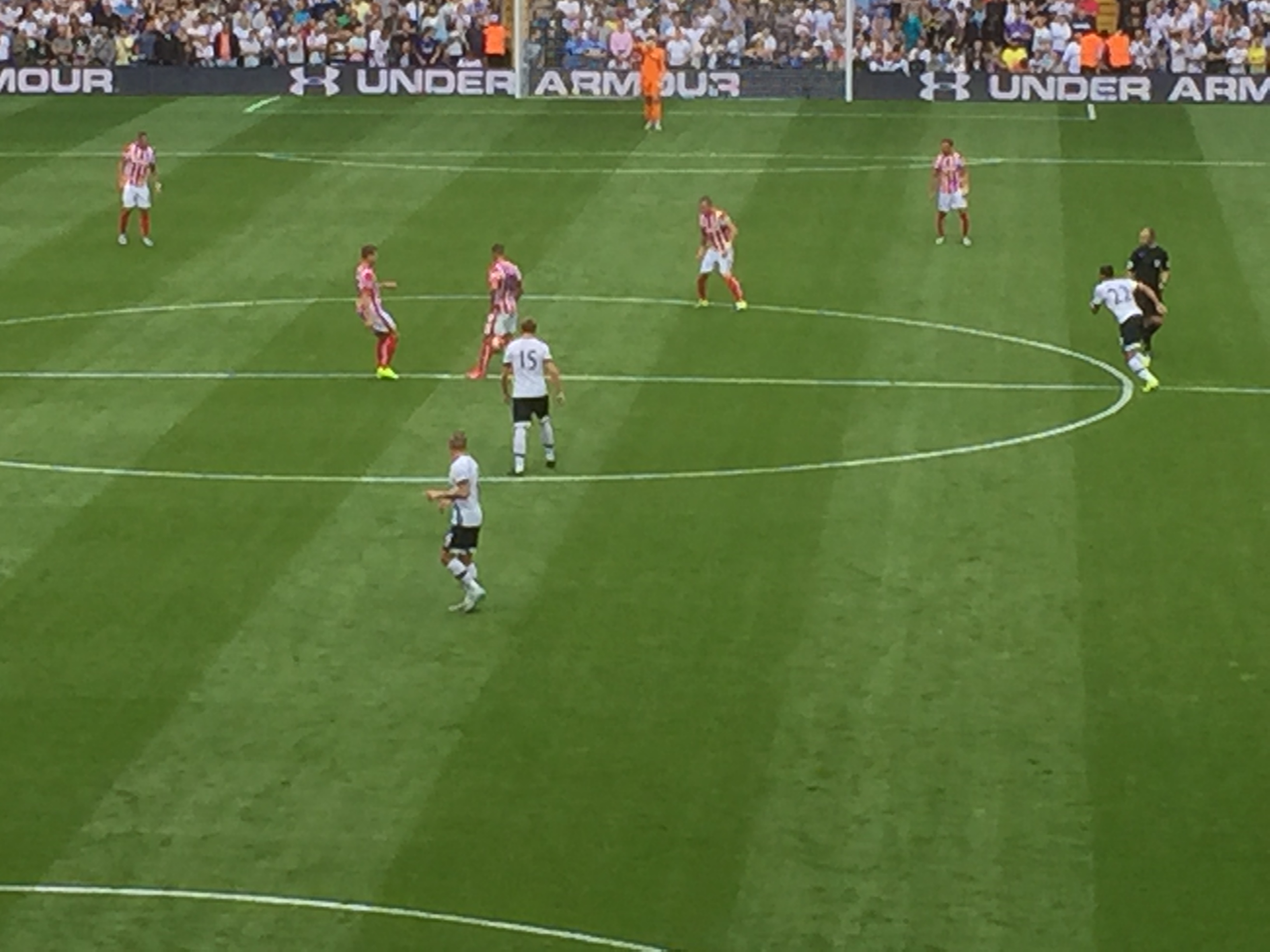 As I made it to bar area during half time, we were all happy with the result, which was accurately representing our dominance. However being long suffering Tottenham fans, we know better than to consider that a win was in the bag. And so that turned out to be true.
Second half initially started off like the end of the first half, we were in full flow, with a great chance for Harry after a marauding run and cross by Chadli. There was some good play by Eriksen as well and even a shot by Dembele! Stoke were starting to get a slight foothold though, with our captain marvel pulling off some fine saves to ensure the deficit remained intact. Kane was substituted with Lamela, and our record signing was having a tough afternoon due to him not being able to retain the ball. Its fair to say he wasn't getting a lot of love from our fans, with the season ticket holders around him telling him in no uncertain terms that he wasn't doing a good job!
Then came the moment that changed the game, where a very soft penalty was given. The incident occurred at the opposite end from where I was sitting, but to me it seemed like the player was looking for a penalty and went down rather easily. After they got their goal, they seemed to be revitalized and there was a distinct lack of belief in the Tottenham side, almost allowing Stoke to attack. The pressure paid off, with Ireland crossing for Diouf to head the ball past Lloris, who had no chance. We barely clung on for our first point of the season and the noise that greeted the players at the final whistle was one of boos. This is something that I have never agreed with, and surprised me since it was the first match of the season. I can understand being frustrated with the result, but booing your own players will never achieve anything.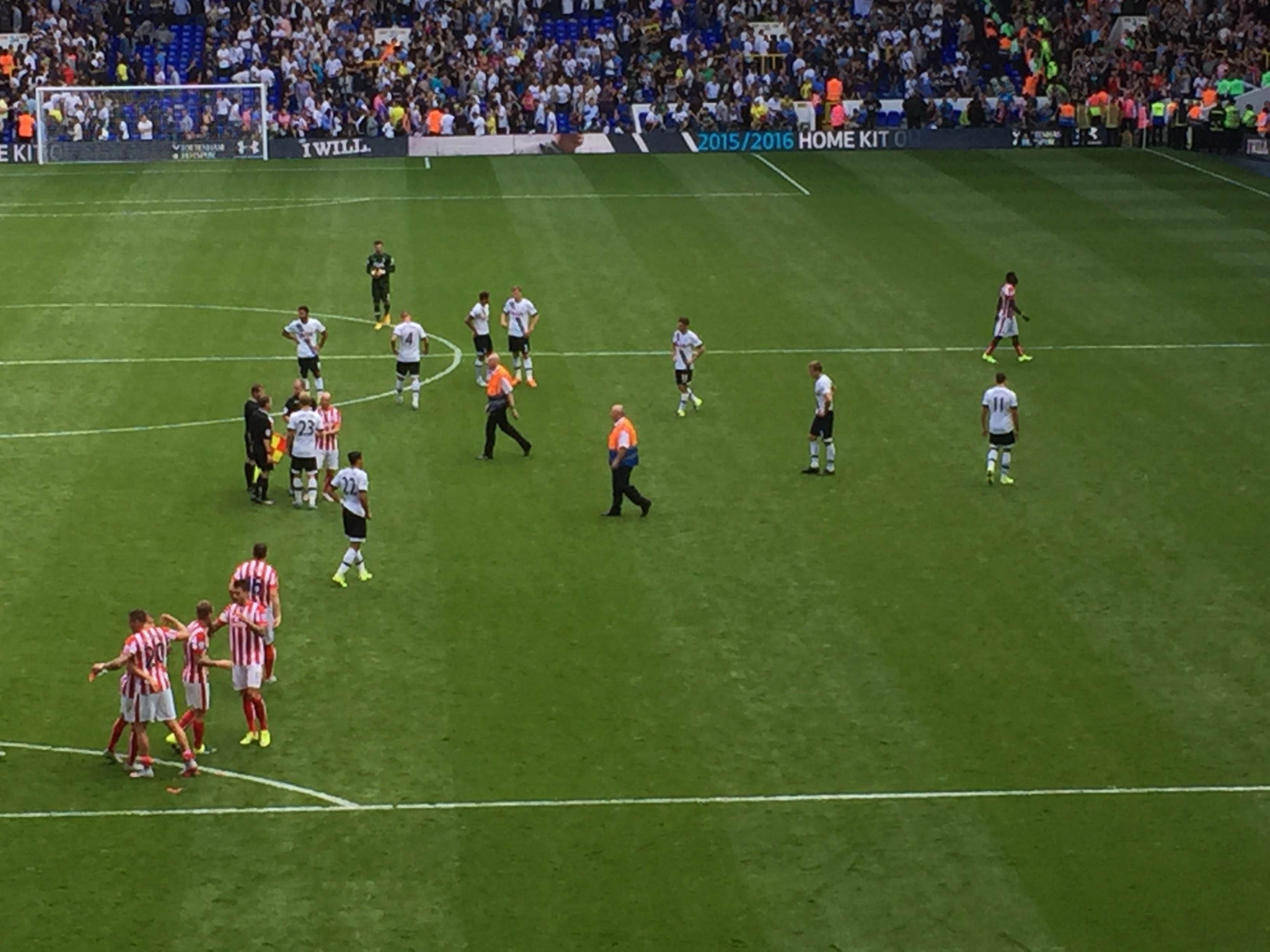 Steaming out of the stadium and making our way back to White Hart Lane station, the atmosphere was a little flat. It almost felt like a loss considering how dominant we had been for around 60 minutes of the match. Standing on the platform near the Fighting Cock podcast lads, I waited for the train and tried to gain the positives from the match. There were a lot of encouraging performances; Dier, Mason, Dembele, Chadli and Eriksen to name a few. It was also our first point of the season, and we scored two goals (at the right end of the pitch!). Its also the very beginning of a new season and we still have a couple of weeks to obtain players to strengthen our squad. The news that we had signed a young, hungry striker in Njie Clinton had been making its way around the crowd and the defensive additions that had been made earlier in the window (while not evident in the first few matches) must surely make a difference to our poor defensive record from last season once they have had time bed in.
All-in-all its been an amazing experience watching the first two matches of the season and I hope that we are on the cusp of doing something great this season. The manager has been allowed to bring in players in line with his philosophy, and has shipped out a lot of dead wood. The performances have generally been good for vast periods of each of the first two matches, but we have been let down by short stretches of time where our concentration or fitness has been suspect. I hope that our support can get behind the team like we did at the Manchester United match for the rest of the season, and we can continue to develop the attacking, exciting football that we have seen in flashes so far this season.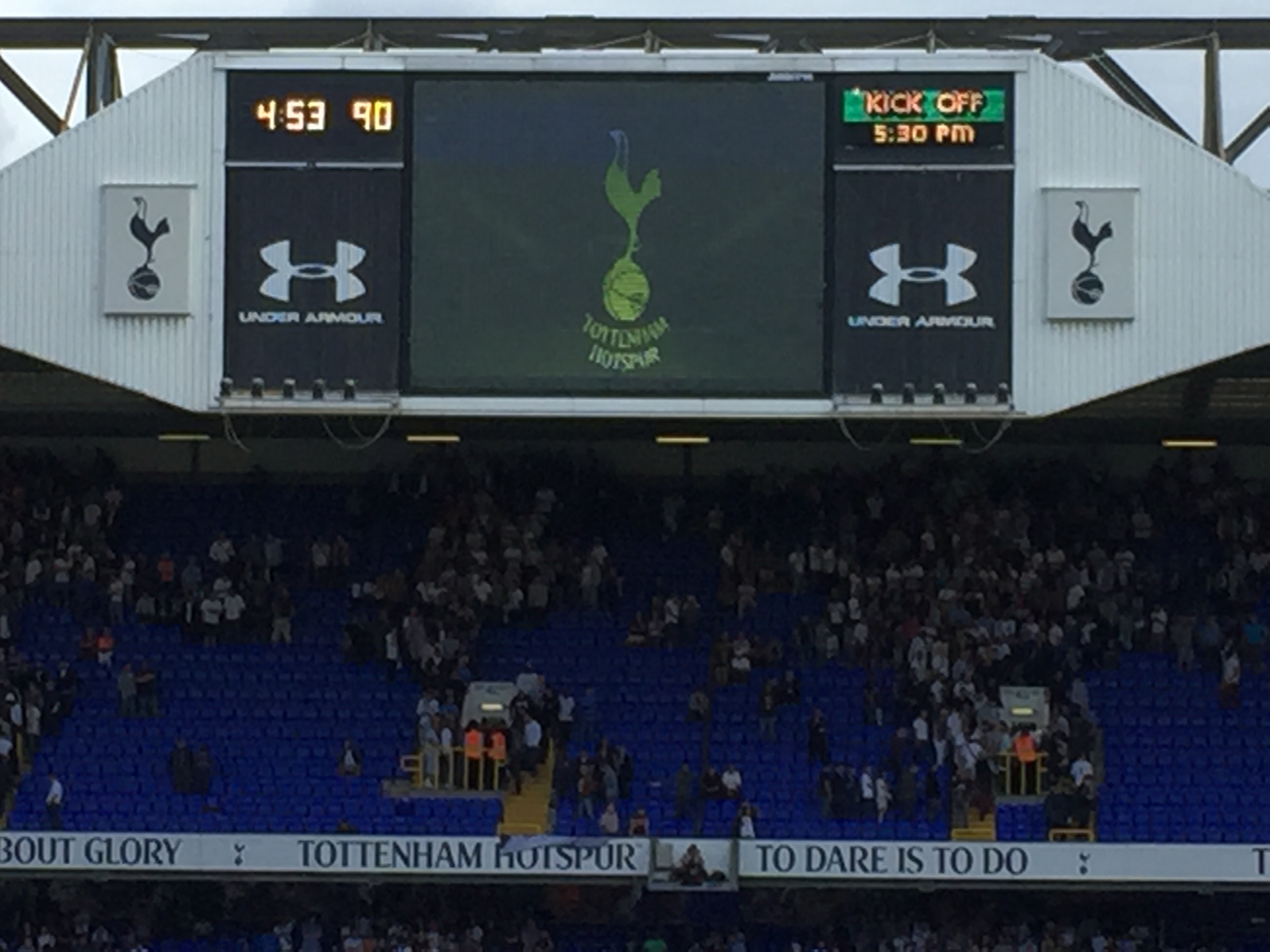 I would recommend to those who haven't seen our stadium first hand, to see it before it is torn down to make way for the new stadium (make sure you do the stadium tour – not offered on match days). I would also recommend going to an away match to experience the atmosphere that our away fans generate.
During the two Tottenham matches, I wore my Dallas Spurs shirt and received a lot of positive comments. Lets hope that we can again go to WHL as a group trip for the last home match of this season. Regardless, I'll be watching alongside you in Dallas soon, Come On You Spurs!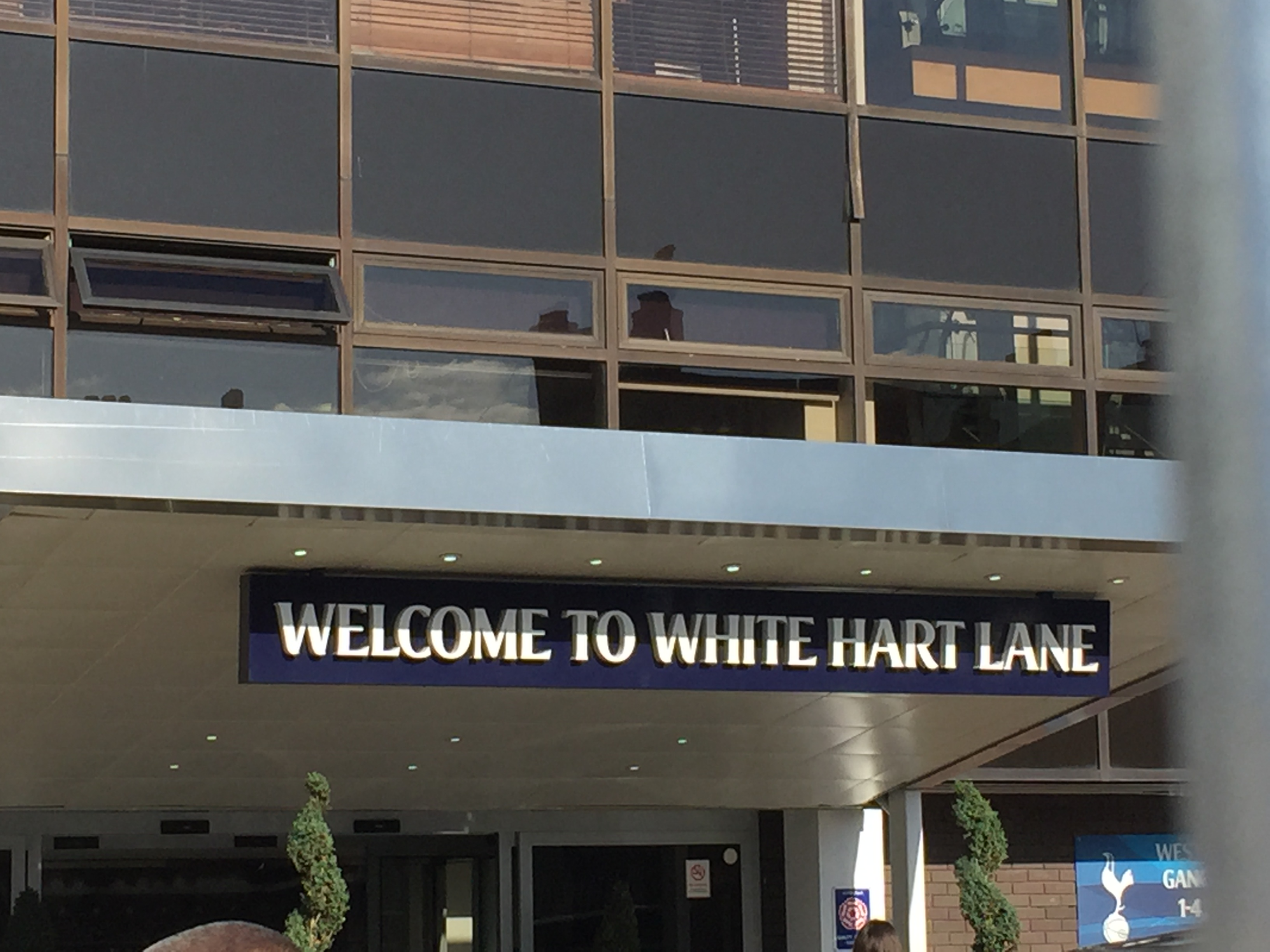 (To see videos and photos from the matches, please go to our Dallas Spurs members closed Facebook page)