The Cock and Ball Stories - Ep2
The Ultimate Tottenham Hotspur Experience
An experience of a trip that seemed too perfect
One of Dallas Spurs' goals for the 2014-15 season, was to ensure we selected a match to attend with a good representation of our supporters club. I'd been over to the Lane as the lone member the previous March albeit with friends and family making up the numbers. We'd selected the date: May 16th, the last home game of the season v. Hull City. Ken Saxton – host of Hotspur America – has already laid down the marker so the rest of us needed to pony up. A few eventually did and the plans were made for the trip… this is that story.
As the season progressed, we realised that the trip was to coincide with the Supporters Clubs end of season awards. Once Sam Zaruwel and I had committed to the trip, we also realised that all three Hotspur America hosts were off to London. Sam started networking and planning a Twitter meet up of many esteemed Spurs Twitterati that we had engaged over the course of the season. The venue was to be a barbeque at the home of Rob White, son of the legendary John White – the Ghost of White Hart Lane. The blood suddenly started to pump just that little bit faster… and it was still only February. More of that later. So, the trip is on. The final contingent represented was still limited but our presence was impressive and despite small numbers, we were revered as much larger numbers: quoted as even 20 plus in some articles written on the subject later on!
Ken had left US shores about a week earlier and travelled to see the Disaster at the Britannia as Tottenham was toppled by an ordinary Stoke City on a bleak English May Saturday. Such was the discontent of Tottenham fans, they had resorted to goading each other at half-time: the new guard – young, impatient and impetuous versus the old guard – Tottenham til we die, regardless of the result and at times, the performance. The scenes videoed were embarrassing. I digress…
A week later, the Calvary arrived: Sam and I were actually on the same flight unbeknownst to each other. Our paths separated at Heathrow but we met up within 36 hours. What transpired in that timeframe was quite extraordinary: after a damp day traipsing around the pubs of London on Thursday, Ken and I met up with a couple of my pals – honorary Dallas Spurs members, Steve and Lewis – and we headed to Enfield on Friday morning to the Supporters Clubs end of season awards. Say what you will about Tottenham Hotspur, about Daniel Levy and our fiscal policies, but the hospitality we were afforded that morning was impressive. I know UK-based supporters feel that the official supporters clubs are treated preferentially and in particular, the overseas-based ones and taking it one step further, the American clubs (for the record, Dallas was the only US representative present and Ken was actually the only American), but I have to disagree. Supporters clubs are definitely a target audience and yes, the US market is the ripest, and Spurs have done that well for all the right reasons. Having lived in the UK for half my life I understand that it is easy to neglect the home fans, but for Tottenham to compete for global reach with the other big clubs, this is an integral part of the brand strategy in today's modern game. This is evidenced with Tottenham Hotspur's presence in the US over the last six years with four trips since 2010, various American players and of course the Under Armour kit deal. This should not be viewed as ignoring the 31,000 fans that fill White Hart Lane every home match, but building a solid platform of global support for when the club changes stadiums. Levy and Co should be able to sleep well every night knowing that there will be 61,000 fans in that shiny new mecca every home match.
Paul Coyte, Stacy Haley, Che Kampumvati and the rest of the Spurs staff that were on hand to take care of us and were truly outstanding. Sitting in on the Q&A with Ledley King whilst awaiting Harry Kane – Supporters Clubs Player of the Season – and Erik Lamela – Supporters Club Goal of the Season (for his rabona versus Asteris) – was a treat. Any time you have the opportunity to listen to a former player, let alone one of the stature of Ledders is brilliant. Photo opportunities were abundant as the morning petered out. We sneaked a peak at a little of the training ground which still is a mind-boggling experience. What a facility, truly world-class.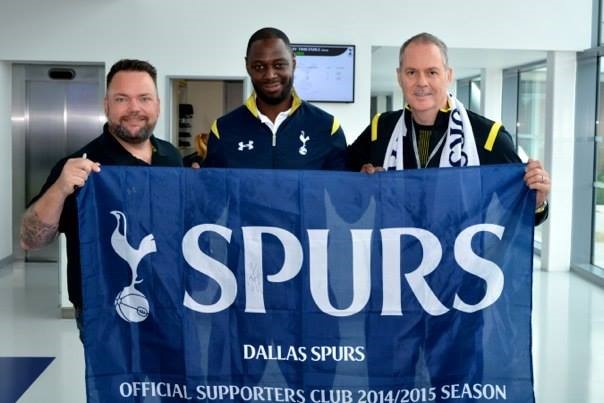 This was also the day the new home kit was launched and it is almost unprecedented that the club unveil a new kit BEFORE the end of the season, let alone in a timely manner prior to the upcoming campaign. A mannequin adorned with the shirt was present at Hotspur Way and I have to agree it was quite handsome, even with the sash and its nod to the shield on the west stand! But what a perfect excuse to head over to N17 and the Spurs Shop to spend copious globs of cash. After liberating our wallets, we felt compelled to celebrate our morning with a swifty at the Bell and Hare… a bit of a surreal experience on a non-match day, but at least we saw the Dallas Spurs scarf so proudly hung from the last trip in March last year.
As day turned to night, we trekked to Crouch End and to Rob's barbecue and met up with our Sam. A night that was brief only due to the whirlwind of amazing people that I felt I just did not have enough time to talk to. It was akin to being at an Oscars after-party. I'm still not sure if I can recall everybody who was present so I'll list them in a surreal kind of #FollowFriday shout-out affair:
Rob White and his wonderful wife, Cara, Jim Crace, Theo Delaney, Flav Bateman, Keith Nicholson, Adam Powley, Julie Welch, Adam Osper, Pete Haine, Mark Plunket, Knut Henriksen (who cycles to every first away game of the season – Rob went with him this season to Old Trafford).
I wish we could have stayed there talking Spurs all night but alas the night drew to a close. We had handed out some Dallas Spurs gear to those who had been on the podcast or had been instrumental in this gathering ever occurring in the first place. But, I cannot complete this account without highlighting the hospitality of Rob White. What a gent. To treat us as he did like people he has known his entire life. To take his father's medals out of their case (removing the tape backing the board too, so I could get a closer look), I'm still speechless today. This man barely knew his father and has lived a life of memories passed on to him by those who played with and knew John well, but is also fortunate to have been blessed with so much humility and affords supporters like us the hospitality of his home and family with such grace; I will never forget that night. Rob White, I will always be proud to call you my friend but above all else you are an absolute gentleman and your father would be very proud of the person you have become.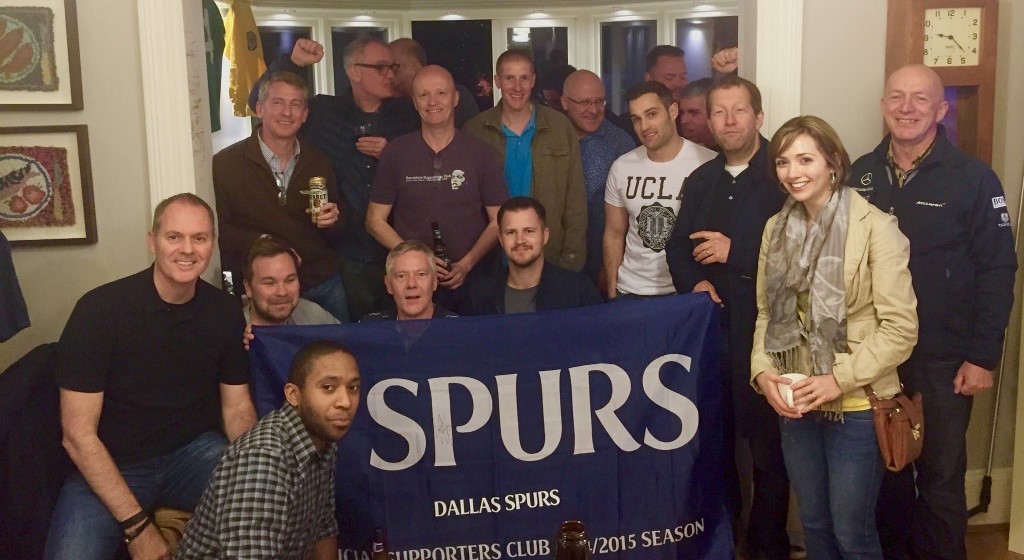 I'm not quite sure how you can follow on from that experience. Saturday beckons. And somehow, the pinnacle of this trip is about to occur: traipsing off to N17 earlier than usual in order to meet another upstanding fellow: Daniel Wynne. He was another gracious host as he showed us around the east stand of the Lane. Of course, the highlight of this was videoing Ken's first glimpse of the hallowed turf of White Hart Lane. Little did I know posting this clip a week or so later, that the video would go somewhat viral with almost 200,000 views, over 200 shares and 550 likes on our Facebook page – even Spurs Official shared the video. I certainly don't recall my first visit to the Lane like this, so Ken mate, you have a permanent record of your first trip to the Lane and it will stay with you to the grave. Anyway, as we made our way to our appointment at the West Stand with Stacy Haley, we were a little early and waited for the suits to make their way through the dressing room and tunnel to pitch side. This was an experience I was fortunate to do last March and for those present who have never been to the Lane – Ken and Chris and Erica – what a treat. This treat had some extra giving though. As we stood waiting to head into the West Stand, I couldn't help but notice Alan Mullery whisk past us. However, as we turned back to the West Stand entrance, jaws dropped further as Micky Hazard and Ricardo Villa appeared. This I when things became a little surreal: introducing ourselves to Micky, who is so gracious and loves Spurs, I then motioned to shake Ricky Villa's hand only to say: "no, I can't do that, I have to hug you for THAT goal!" And I did. THE Ricky Villa. I have no regrets. But his retort to me? "Ossie is coming, he'll be here in a minute". I think I said something like: "yes, Ossie is awesome, BUT you scored THAT goal!" Once Ardiles arrived and we finished with the obligatory group photos and selfies, we joined our exclusive tour (nicely hosted by Jonathan Waite). As awed as we still were, my pal was tugging me on the arm as we proceeded to the tunnel via the West Stand stairwell. As I hesitated, I turned to see none other than Martin Chivers. This was my first Spurs idol and I'd almost walked right past him! As much as meeting Ricky, Ossie & Micky was an experience, this was Big Chiv. I had missed out on meeting him five years ago but here I was posing for a photo with one of Tottenham's finest strikers, my first hero. I was a little misty-eyed truth be told. Footnote: it dawned on me about a month later that none of us thought to ask any of these legends for autographs preferring to have photographs taken with them. Odd? Yes? No?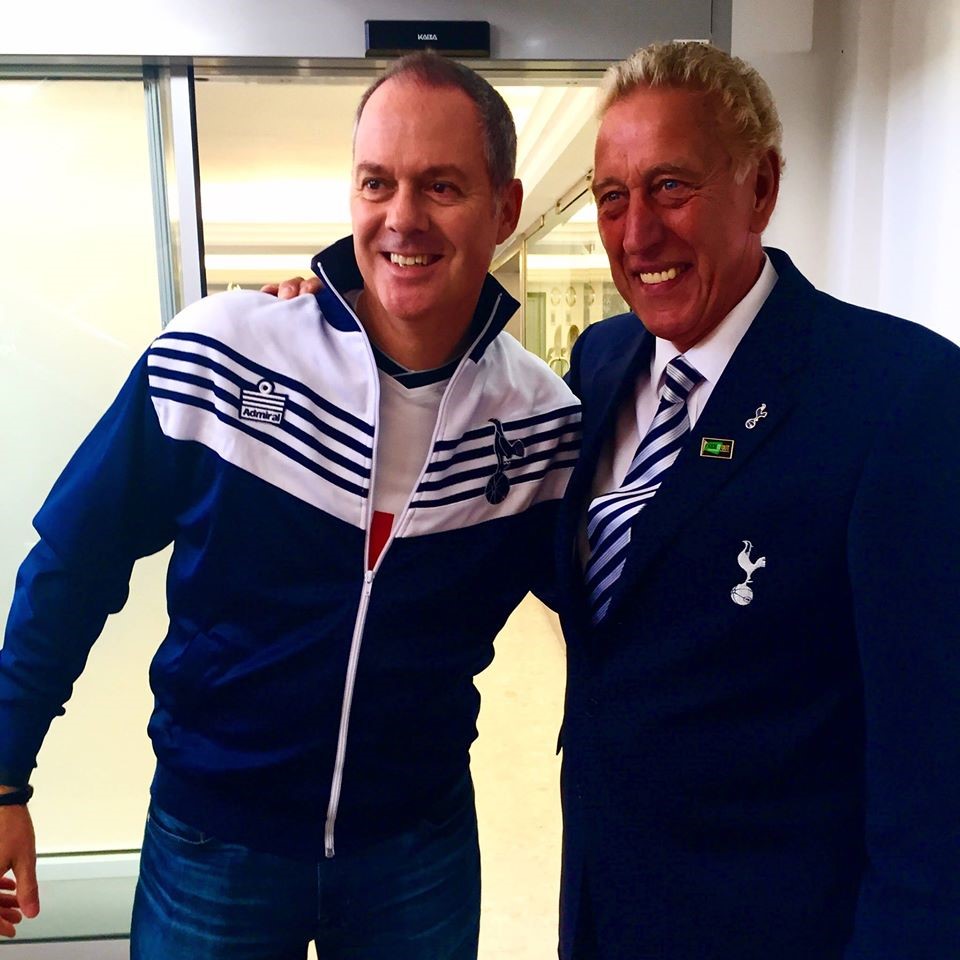 After all that, the tunnel experience could've been rather anti-climactic but was far from it in any way. Now we were able to watch Chris Mills stop dead in his tracks. Twice in a little more than an hour we were witness to two Spurs friends seeing the Lane for the first time and watching their reactions. Seeing the dressing room on match day is much more impressive than during the regular White Hart Lane tour. Ironically, as Brad Friedel had just announced his retirement from playing, this was a great opportunity for him to say goodbye to the Spurs fans at full-time. I just happened to take a photo of his kit as it was the closest to the door and as we left the dressing room, who should we bump into? Brad Friedel. He glanced at our troupe as we exited and recognised Ken, Sam and myself immediately. You could see it in his face: "You three!" Yep, it's us, the guys who took two hours of your life to record a podcast and end up with sod all! But a gentleman to the end, Friedel was brilliant. (Footnote, as many of you who follow my exploits will know, I bumped into Brad in Frisco, Texas about a month later as he stayed with the USMNT during the Gold Cup and then a month after that at the MLS All-Star Game as he played double duty with Fox and Tottenham. #Stalker).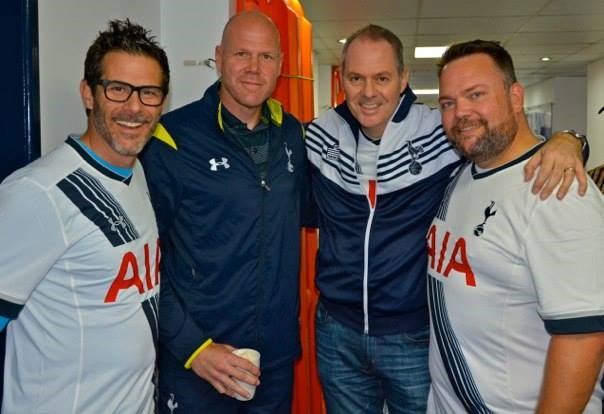 What do you do after all that? To say our heads were swimming was a bit of an understatement. Having a pint or eight at the Bricklayers gave us all an opportunity to let the last couple of hours sink in. And we still had ninety minutes of Tottenham Hotspur to experience! Lo and behold, singing, drinking, soaking up the N17 matchday atmosphere with Vass Koni, Andy Koni and Ollie Wadhams. More Tottenham lads! The Kronenbourg and the wall-to-wall Spurs population was enough to have us refocus on the Pochettino Blue and White Army and kick-off.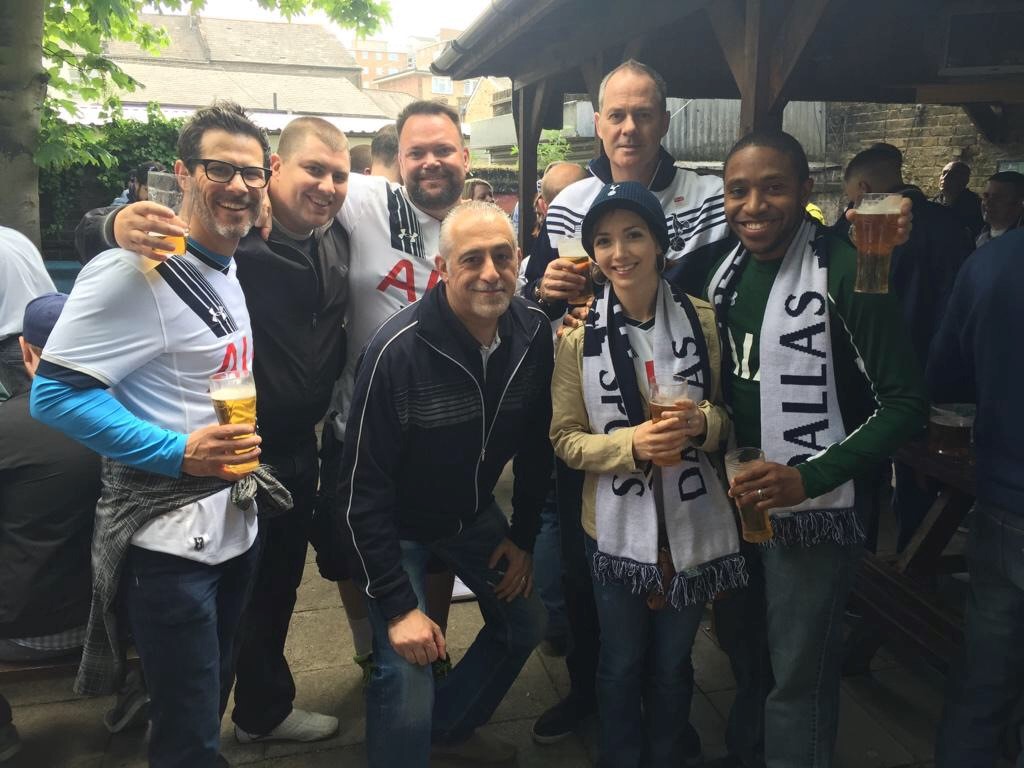 The match itself was a bit of a disappointment. Despite a comfortable 2-0 win for Spurs versus a Hull City whose Premier League fate was pretty much sealed without a win at the Lane, the performance was another one of those frustrating efforts seen too many times this season. The Glory Game was not on show today. But I don't think we really cared. We had travelled 4,500 miles for an experience that, although incorporated around a football match was more than that. It was the Dallas Spurs flag on the Paxton (for the second time this season and now resplendent with tea stains!), the people we met – ALL the people we met. Tottenham is a family. Life is about people and we met some incredible people. If I have neglected to mention any of you, I am humbly apologetic but please realise we met so many fine Tottenham people. Even the folks that we met on the Tube coming down from Peterborough to watch their first Spurs match at White Hart Lane. We are one Spurs family, one Spurs community and we rally around everyone. In modern football, it is so easy to assume everybody has already been to the Lane. There will be many attempting to make that pilgrimage before the old dear is ripped apart in the next couple of years.
This was a phenomenal trip, an amazing experience that although I want to live through again, I may never have the opportunity. I will treasure, relish and guard these memories and as we press on towards the new stadium and a brave new era for Tottenham Hotspur and I doff my cap to all those aforementioned that made this London journey so truly wonderful.
THANK YOU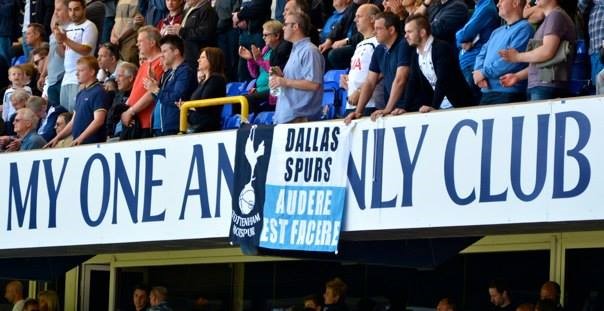 Editor's footnotes:
As much as I was cognisant of the daily descriptions, the events fell together so perfectly they needed some chronological order. Hopefully the colour in between livened up the events. ↩

This blog was also written during the opening week of the 2015-16 season and the perspective given, albeit twelve weeks after the fact still validates what an incredible trip this was that may never be replicated. ↩