Tottenham Vs Newcastle and Leicester in the final 2 games of the season, End of Season Party and AGM.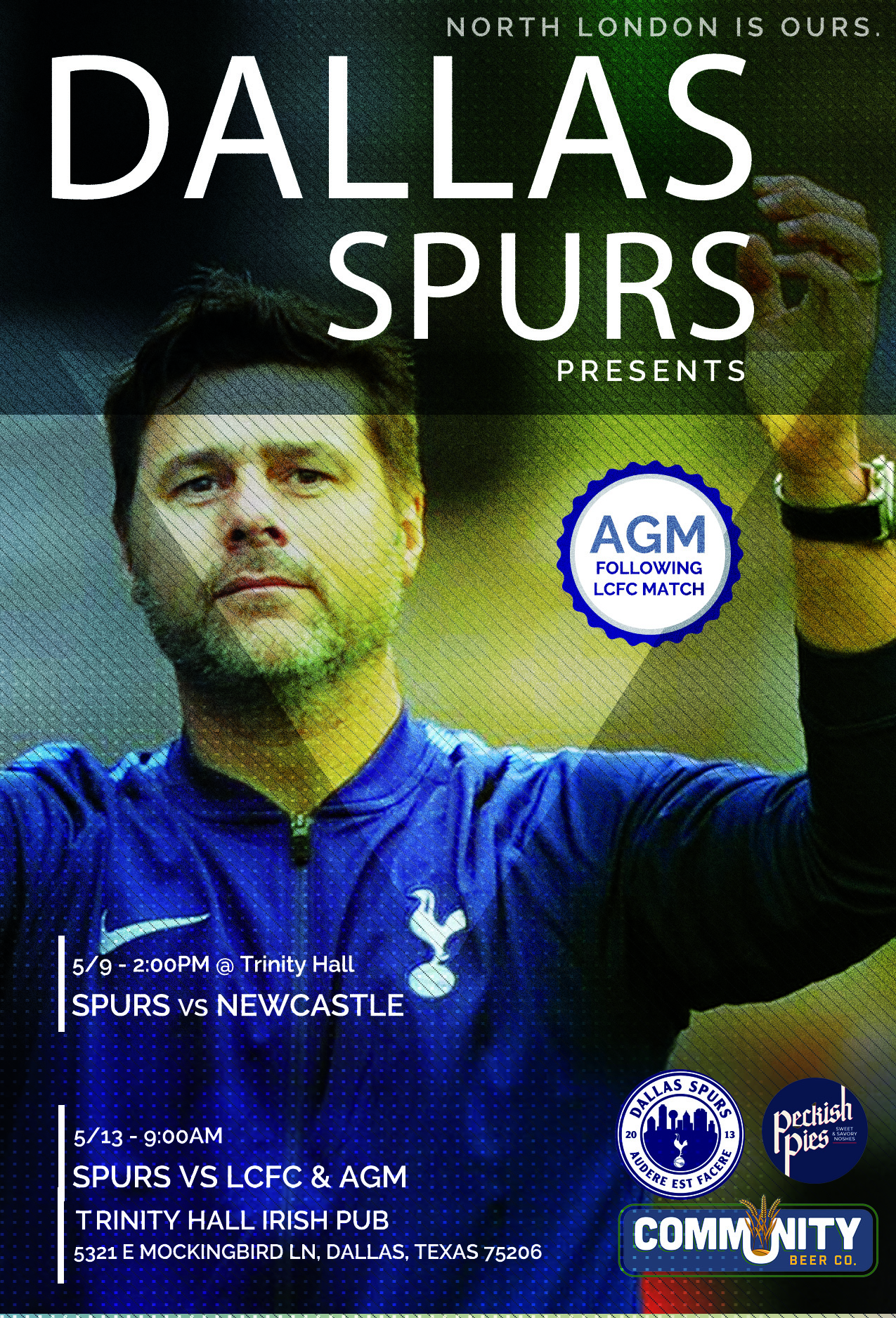 Its all come down to the final two matches of the season. Despite our unexpected loss to WBA on Saturday, the chance to qualify for Champions league (and indeed third place) is still in our hands. 4 points from our last two matches should qualify us for Champions league and a full 6 points clinches third spot. We take on 10th place Newcastle and 9th place Leicester who are comfortably midtable and have no real targets left to aim for this campaign. Both are home matches with Newcastle on Wednesday at 2pm and the final match at Wembley against the Foxes on Sunday at 9am, before we head to our new home adjacent to the old White Hart Lane. Join us for these 2 key matches both at Trinity Hall. Details are on the flyer attached.
Be sure to stay for the end-of-season party after the Leicester match on the 13th as well as the Annual General Meeting. During the EOS party we will have a general raffle where tickets are $5 each or $10 for 3. Prizes include warm up tops, signed prints from Spurs legends such as Ricky Villa & Ossie Ardiles, Steve Perryman & Ossie Ardiles and Jimmy Greaves.
There is a separate raffle for the grand prize of a signed framed Dele Alli shirt, where tickets are $10 each! Don't miss out on this amazing item. Tickets can be bought at any watch party.
So, join us for the last two matches of this season and stay for the EOS party/AGM afterwards, where we will wrap up a hugely successful season for Dallas Spurs and will hopefully be celebrating securing Champions League for another year and maybe even third spot. COYS!