Tottenham Vs Everton, End of Season Party and AGM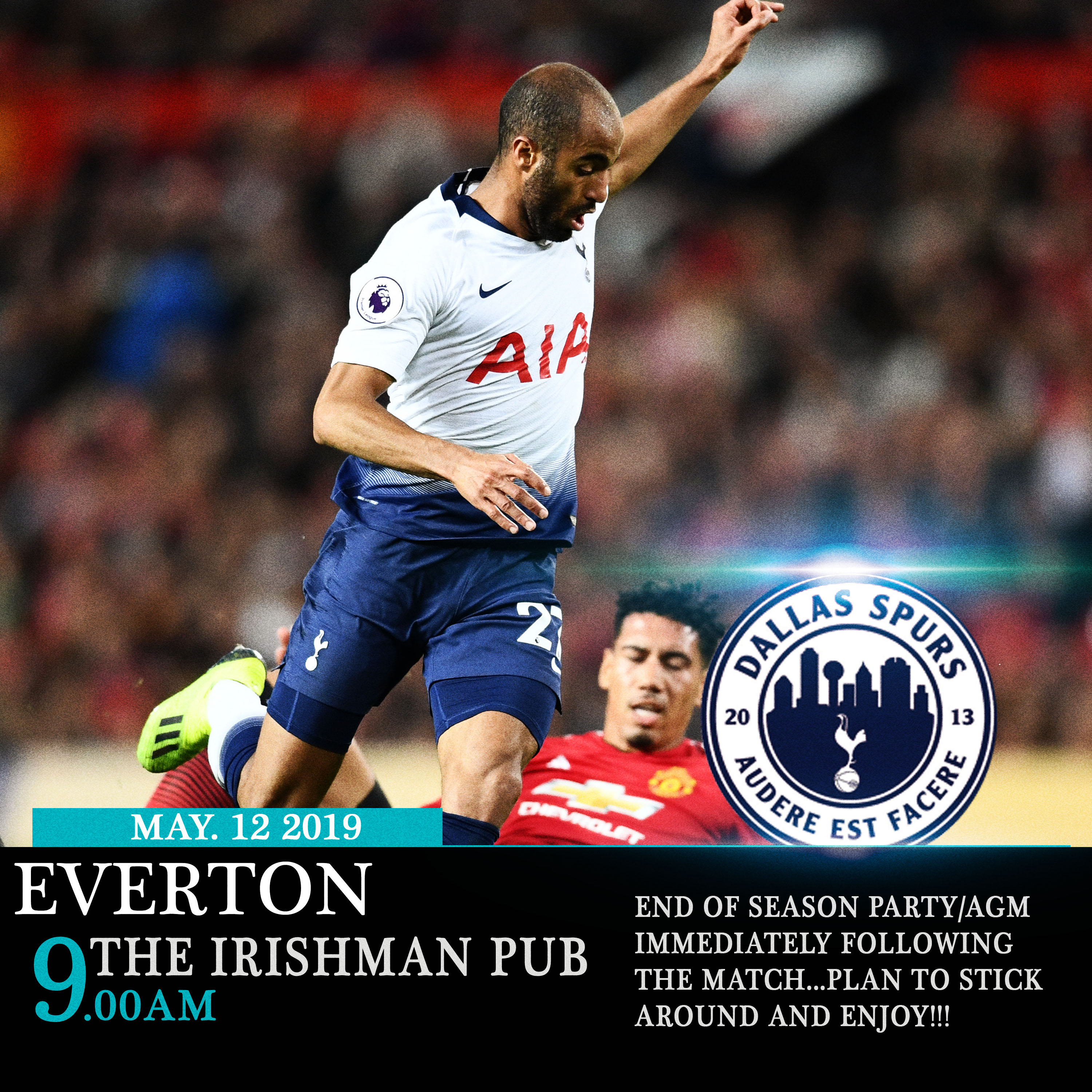 An unbelievable second half comeback on Wednesday means that Sunday will not be our last match of the season. However it will be the last league match of this campaign as we take on a Jekyll and Hyde Everton that are unpredictable. Its likely to be a closer game than the 6-2 drubbing we gave them earlier in the season.
In addition, we need Chelsea to not win and better their result to reclaim third spot. Our form has been poor with only 3 wins in 8 matches in all competitions since the first leg at Man City in the Champs League Quarterfinals.
Join us at 9am on Sunday for our last league action for this season at the Irishman. You won't want to miss it.
Stay after the match for our annual End of Season Party. Its a great time to decompress form the season and socialise with one another after the rigours of the campaign!. We will have our raffle with items to win such as official DS scarves and mugs, as well as official T-shirts and a signed Scott Parker Fulham shirt, Berbatov print etc. Tickets for this are $5 each, or 3 for $10.
The deluxe raffle with tickets $10 each or 4 for $30, have items to win such as a signed Hoddle montage, signed Sheringham shirt, Perryman and Ardiles prints and more.
There will also be our AGM with officer elections and update about our Supporters group, so be sure to stick around for that.
We are working on details for the Champions League Final on 1st June. An incredible second half performance against an impressive Ajax side saw us overcome a 3-0 deficit. A Lucas Moura hat trick pushed us through to the Final for the first time in our history. The incredible scenes from the manager and team at Full Time, showed what this achievement means for us. You won't want to miss watching the most important match in our history with us on a truly historic day. Details will be announced shortly.
COYS! Glory awaits!