Tottenham Vs Brighton and Man City, Crimbo party and Supporters club meeting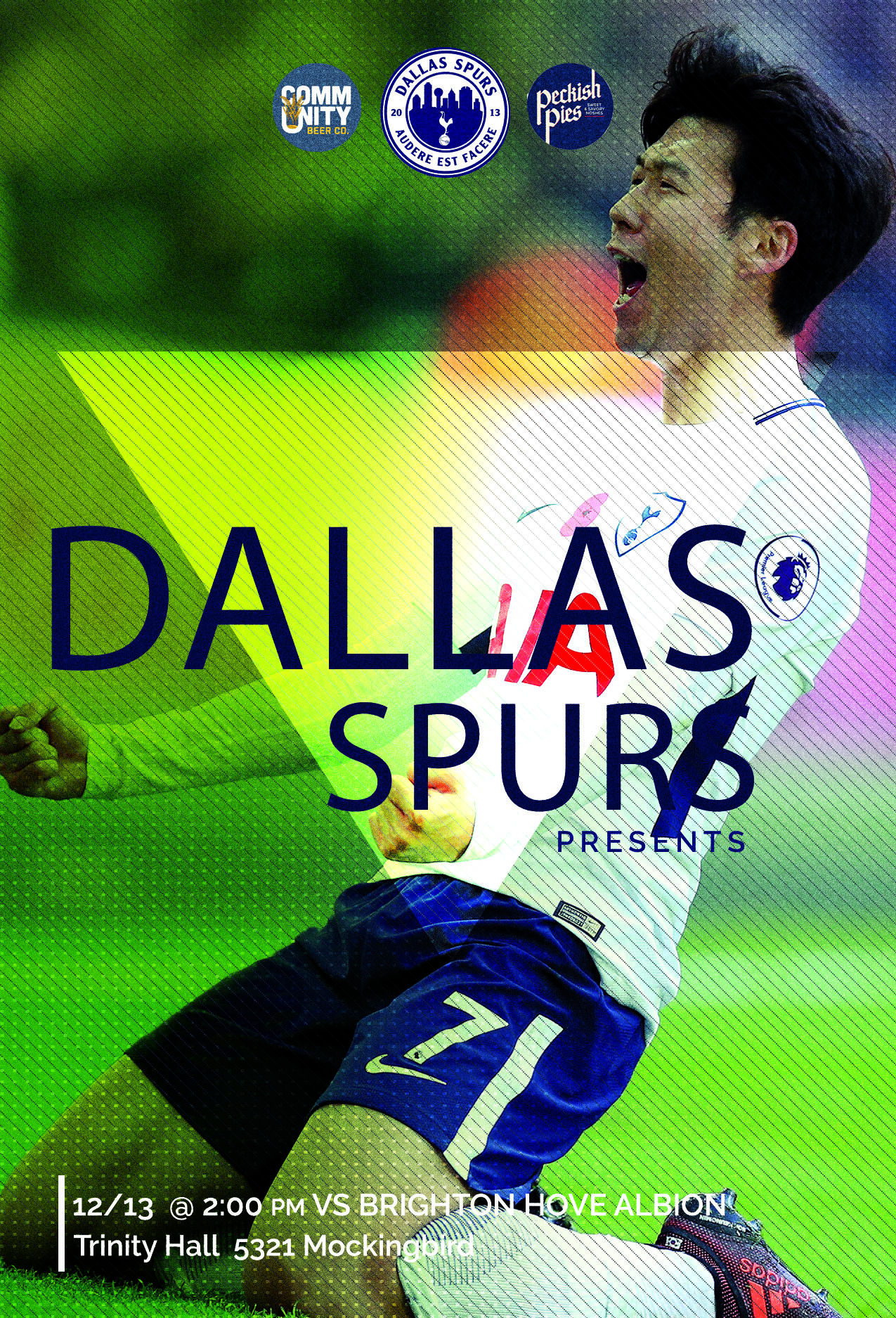 We arrested our slump in some style at the weekend with a Sonny-inspired 5-1 hammering of Stoke. And its straight back to Premier league business as we take on old boy and ex-assistant manager Chris Hughton's newly promoted Brighton side. They are coming off a 2-0 loss to fellow promoted side Huddersfield and have lost 3 of their last 4 matches. Despite putting 5 past Stoke and many other results going our way, we still finished the weekend in 6th place. However we are only 3 points off of 4th place and we have historically done well over the Xmas period under Pochettino. This is a huge match for us to pick up points to put us back in top 4 contention before the headliner weekend match. Join us at either partner pub for this midweek match for a 2pm kick off on Wednesday.
Then its the headliner match of the weekend on Saturday as we take on high flying Man City. They have only dropped 2 points all season in the league and are comfortably 11 points ahead of second place. This will be a tough match, but we ended their great run last season when we played them. This season they are in an even stronger position after spending untold millions on players in the summer transfer window. We go to their manor and face Kyle Walker who we sold to them in the summer. Should be an exciting match where both teams are committed to attacking stylish football. This one can't be missed and we will be at Trinity Hall for an 11.30am kickoff.
Stay behind after the match where we will be having our annual Dallas Spurs Xmas party. We will have the White Elephant gift exchange (gift limit is $25 if you want to participate - two steals allowed), a raffle with an amazing grand prize, as well as a free drink on us for paid members (still not too late to sign up on the link below). This is usually a highlight of the year on the Dallas Spurs calendar so be sure that you don't miss out. Afterwards we will be having a Supporters group meeting, so be sure to stay for that too. We hope to see you there in your festive Xmas Spurs sweaters and reindeer antlers!
Two huge matches, the Xmas party and supporters group meeting coming up, so be sure to join us for all the events. What a great time to be a Dallas Spur!