Burnley match and Annual Dallas Spurs Xmas Party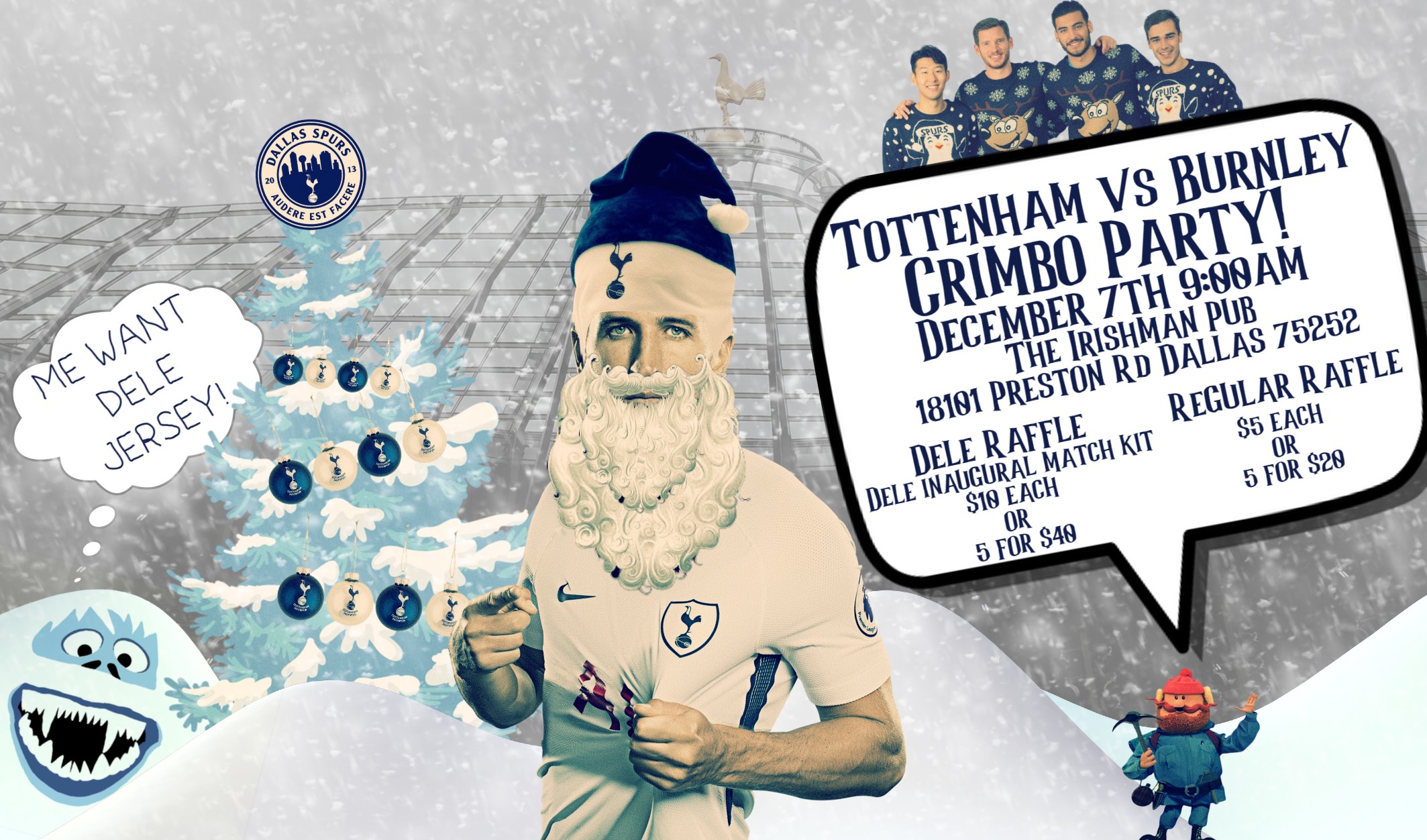 Its that time of the year again when the world famous Dallas Spurs Xmas party is upon again! This is one of the highlights of the DS calendar and this year will be no different.
We have not one, but two raffles for you! The regular raffle will be open to all and each ticket will be $5, but you can get 5 for $20.The special raffle will have as the chief prize, a signed Dele shirt from the inaugural match at the new stadium up for grabs. Only paid members are eligible for this one and tickets go for $10 each, or 5 for $40. This a huge prize and one that every Spurs fan would want. You don't have to be in attendance to win.
We will also have our annual White Elephant Gift exchange. If you want to take part (highly encouraged and a lot of fun!), bring a wrapped gift upto no more than $20 in value and get ready for some mayhem! Everyone taking part will draw a number for the order in which they can pick a gift, and then in order, can either take a gift or swap for a gift that has already been picked. Only one swap allowed and the person who draws first, has the chance to stick or swap at the end of the whole game. Its easier than it sounds, and you won't want to miss out.
Not to mention that every paid member gets a paid drink on Dallas Spurs as a thank you for your continued support. So become a member at the link on the email (or in person at the match) if you haven't done so already.
The match itself is against Burnley on Saturday at 9am at the Irishman. We've managed to leap up to 5th spot with two straight wins under the new regime. A win here can help us close the chasm to the top 4 positions, but it won't be easy against a difficult to beat Burnley side who are sitting in a healthy 10th position in the table.
This should be a good match and lets see if our winning streak can continue to progress into the festive period and beyond.
Be sure to stick around afterwards for the Xmas party.
COYDS!