Manchester United Vs Tottenham Hotspur
I had always wanted to go to Old Trafford to see one of the "cathedrals" of English football. The historic stadium that had seen some of the greats grace its pitch, such as Bobby Charlton, Denis Law, George Best and Eric Cantona to name but a few. On the dawn of a new Premier League season, I was somehow able to get a ticket in the away end amongst fellow Tottenham fans for the first match of the season. I made the two hour journey up from London Euston to Manchester Piccadilly station the night before the match since I didn't want to get caught in the crowds on match day and especially since it was an early kick off. I took a stroll from my hotel to the ground, which was a leisurely 15 minute walk and took in the atmosphere. You could feel the excitement and tension in the air with the kick off to a new season just over 18 hours away. While tourists were busy taking selfies with the "United Trinity" statue and leaving the Manchester United megastore with arms laden with red and white goodies, I couldn't help but think that we had a great chance of getting a win against them. With their flurry of signings over the summer, I had a feeling that they would underestimate us and that we could use the element of surprise of our youngsters (many of whom did exceptionally well in the preseason friendlies) to secure three points. My only prior experience of this fixture was in the 1994-1995 season at White Hart Lane, when Steve Bruce scored the only goal in a united win. My overwhelming memory of that match was the amazing goal that Klinsmann scored. It was an absolute cracker for us and then he ran and celebrated right in front of us at the corner flag. The crowd went absolutely mental but then slowly defervesced once we realized that the linesman had given it as off side. The celebration for that non-goal was so epic that Match of the Day had it in their opening credits for the rest of the season!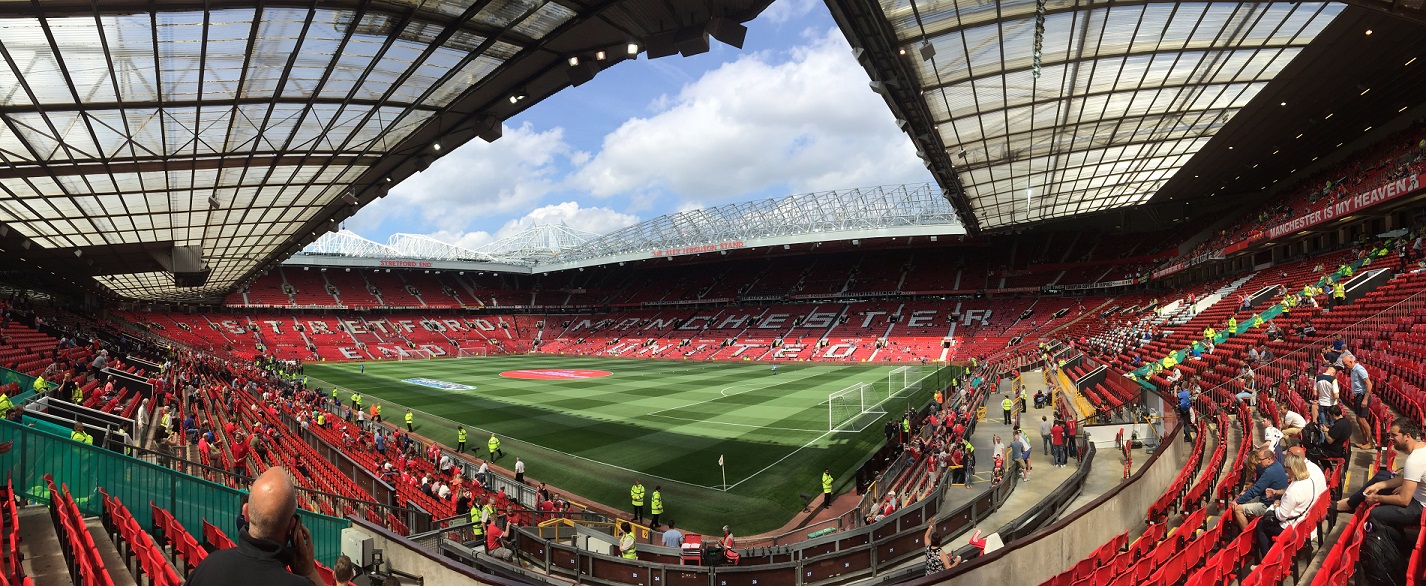 The anticipation for the match made for a restless night, and after demolishing the hotel breakfast bar, it was off to Old Trafford for kick off. I felt like I was behind enemy lines walking with my Dallas Spurs shirt under a navy blue hoodie amongst a sea of red shirts. On the way I passed a pub opposite the stadium which was fit to burst with Mancs singing at the tops of their voices. I didn't see any other Spurs shirts until I reached the stadium itself, and as soon as I passed through the antiquated turnstiles you could hear our support sing. Although I'm obviously biased, I think that even opposing fans would agree that we have one of the most vocal away support in the league. You can hear our fans singing through your TV screens on most match days and the repertoire of songs is lengthy. Even before kickoff, at the bars situated before the stairs to our seats, there were rounds of "Oh when the Spurs" and "We are Tottenham" being belted out.
Inside the stadium, the feel was one of a little disappointment to be honest. Old Trafford doesn't have the historic feel of White Hart Lane or Barcelona's Camp Nou. It also doesn't have the new interiors and flashy style of Real Madrid's Bernabeu or AC and Inter Milan's San Siro stadia. The closest I could liken it to, was a much smaller and less nice version of Rio's Maracana. The most surprising aspect of the ground to me was that Old Trafford has no screens. No Jumbotrons like at the Lane. So there were no replays or visuals of squad line-ups or anything. You would think that they could rub two pennies together to stick up a couple of flat screens! That was pretty disappointing, though may have been intentional to keep the 'old style' feel to the place.
The songs from our away support section in the stands began well before kick off. Several rousing versions of our Spurs standards were sung, with on-looking United fans almost wondering what we were doing - How dare they sing at a football match?!!! The Old Trafford faithful were very quiet throughout. We had to give them a bit of needle by singing "shall we sing a song for you" and "1-0 and you still don't sing". They looked like they had come to watch an opera or something. (By the way, you can check out some of the photos and videos I took of the match on the Dallas Spurs members Facebook page.)
First Hugo, the reserve goalie and goalkeeping coach came out for warm ups, shortly joined by Michel Vorm. They were greated with huge applause and then were joined by the outfield players who were put through their paces by the coaching staff. After the warm up, they went back in the tunnel and emerged to the Premier league theme and after brief hand shakes, we were off.
We started the game brightly and completely dominated the first 20 minutes basically until the time of their goal. We looked by far the brighter team who's fitness was far better than United. Alderweireld was commanding at the back and Dier was showing signs of growing into his defensive midfield role that he had been trying out in preseason.
Their goal came against the run of play after a glaring mistake by Bentaleb. Bentaleb was a poor shadow of himself in this game. Poor passing, a lack of urgency and possibly a lack of fitness had us crying out for Mason or Alli. Walker also had a relatively poor game. I was watching his positioning and time after time he was getting caught out, with runners getting in behind him. Though I can't blame him for the goal. He had to make the challenge because otherwise Rooney would have buried the ball anyway. Walker did show signs of improvement towards the end of the match, but if he continues like that, you can only think that it's a matter of time before Trippier starts after his outstanding performances in preseason. Eriksen had some chances throughout the game and I was convinced that the shot towards the end of the match (which Romero did very well to save) was going to go in. Harry was quiet and was getting double and triple teamed throughout. He will likely need to continue to develop his game since defenders are going to be more attuned to his style now and the element of surprise from last season is well and truly gone. The lack of good service also didn't help him and there was a lot of sideways and backwards passes with several players hesitating to take shots on goal when in good positions. Chadli continued his fine preseason form and Dembele showed glimpses of why Pochettino still wants to persevere with him. Our youngsters however seem to be the real shining lights, with Alli in particular continuing to look like a real talent. He was completely unfazed and looked confident rubbing shoulders with seasoned internationals. I also cannot wait to see what Pritchard and Carroll do this season.
As always at Old Trafford, we also had to play against the referee. We never seem to get anything against Manchester United, and they were getting every decision that they appealed for. Even blatant fouls were not given to us. This seemed like a continuation of the Pedro Mendez match with all the decisions going against us! The loudest cheer of the day was when the referee finally gave us a free kick two thirds of the way into the match! Their players were generally underwhelming, with Schweinsteiger and Depay hardly dazzling on their competitive debuts. Ashley Young was up to his usual tricks, rolling around on the floor and trying his best to get our players booked. You would have to think that old United hard men like Roy Keane would not have been happy with that, had he been in the United side!
On the walk out of the stadium the mood was one of disappointment, particularly since we played so well. We definitely deserved at least a point, if not a win for how well we played and dominated for vast periods of the match. The lack of incisive passing and direct chances will be worrying for the manager, and I'm hopeful this will prompt the arrival of a striker and maybe some wingers.
However there were also a lot of signs of hope for the future due to the emergence of several young players in the squad and we could be on the verge of doing something very special this season.
It was good speaking with other Spurs fans as we streamed out onto the unseasonably hot Manchester streets, though there were some opinions I couldn't quite understand. I had to disagree with one bloke who was trying to convince me that the play under Pochettino's regime is worse than when we played under AVB. Speaking with an Irish Spurs fan who had flown over for the match, its seems like his main concern (along with all the rest of us right now) are about who we will buy. No doubt we will all be glued to the transfer websites for the remaining few weeks to check for new arrivals and also to ensure that the two H's don't leave N17.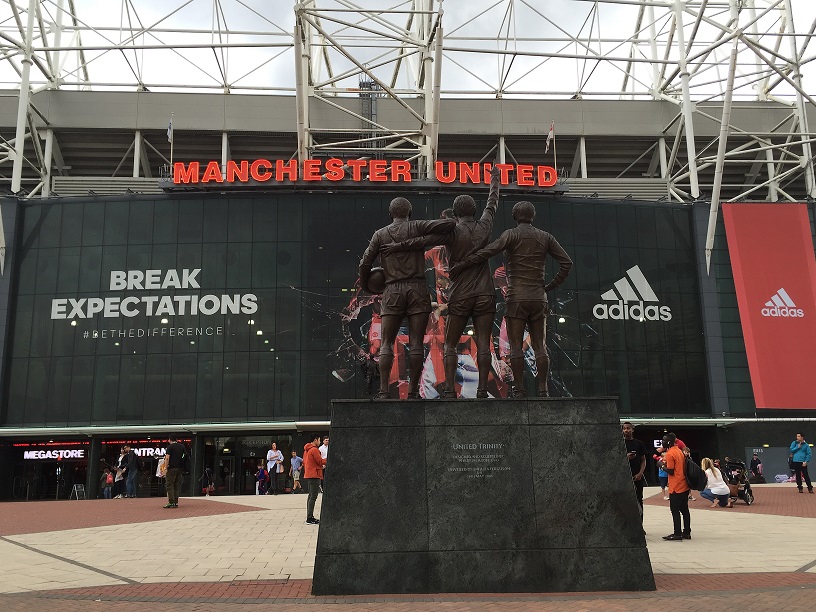 Next weekend is our opening home game game against Stoke. It's time to get our revenge on Sparky's boys for that humiliating 3-0 beating we took last season. I'm hoping to see us take three points and score some goals before I catch that flight back to TX. Come On You Spurs!